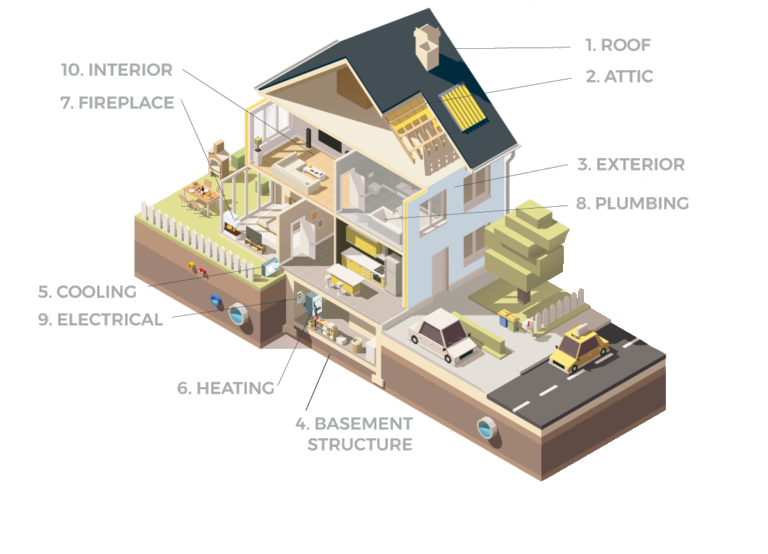 Advantage Home Inspection Services is committed to serving you, our customer. Our business is built on trust, integrity, and ensuring you have the information you need about one of the largest investments you will make. Choosing the right home inspector can help ease your stress and give you peace of mind. We will help you make sure your investment is secure.
Ultimately, a thorough home inspection depends heavily on experience and attention to detail. With Advantage Home Inspection Services, you are getting a Certified Professional Inspector who understands the commitment you are about to make. When you hire us to inspect your new home, we guarantee that we will take the same care as if it were our own.
Each appointment will consist of a thorough inspection and detailed evaluation of the following:
Exterior Components:
Roof, Chimney, Flashing and Valleys – Evidence of water penetration, materials, condition.
Siding, Trim, Windows and Storms – General condition of each.
Landscaping – Check for proper grading and its effects on the foundation.
Gutters and Downspouts – Overall condition, effects of dampness in basement and ability to carry off rainwater.
Driveways, Patios, Decks and Porches – General condition of each.
Air Conditioner Compressor
Interior Components:
Heating System – Visible portion of heating plant and components.
Plumbing System – Test All visible fixtures, pipes and drains for operation.
Electrical System – Outside entrance wiring, service panel and visible wiring inspected. Random testing of outlets.
Walls, Floors, Ceiling and Windows – General condition of each.
Attic – Condition of roof sheathing, ventilation, insulation and framing.
Basement and Structure – Foundation soundness and evidence of moisture penetration.
Fees
Single Family Residence – $425.00 (over 4,000sq/ft. call for quote)
Duplex – $450.00
Multi-Family – Call for quote
Condominium – $295.00
Commercial Property – Call for quote
Radon Test – $ 125.00
(Please Note: There will be $50.00 charge for any follow-up inspections.)
Please ask about our Military and First Responder Discount!